Introduction to Castle Security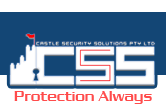 Castle Security is a 100% black owned, economic empowerment company established to deliver professional and efficient services to its clients. Coming from historically disadvantaged communities, our aim is to empower South Africans economically through professional service delivery and diligence. Our core business is to contribute to the promotion of South Africans as an international competitive arena for events, public relations, security and economic and social development. Castle Security supports the vision of our government to alleviate poverty, reduce unemployment and improve the skills of marginalized people.
Vision
Our vision is the building and maintaining of a professional and modern organisation, centred around business practices that promote integrity, honesty and social responsibility. This will provide the foundation to ensure we are the No 1 security company.
Mission
We promise to deliver the best service to our clients, with dignity and pride in our work and to uphold the company name through dedication and trust. We further promise to protect our clients assets, family members or third party on our clients premises..